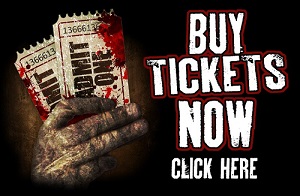 Here are some answers to some our Frequently Asked Questions. If you have questions not addressed below, please contact us.
What is Deadmonton House?
Deadmonton House is the first of its kind, professional haunted house located in Edmonton (South Central – 7031 Gateway Blvd.).
What does it mean that there are two Haunted Houses?
It means double the scares! WARPED is our main haunt inside the warehouse. Dusk is an old style New Orleans Cemetery located outside in our compound. Most tickets allow you into both haunted houses however we do offer Early-Bird tickets for WARPED only during the beginning of the season when DUSK is open later than WARPED. Dress accordingly for the weather as you will be outside!
Why don't both Haunted Houses open at the same time?
The times posted on our website reflect the opening times for WARPED. Dusk opens AT DUSK. WARPED opens earlier as it is inside and we can shut the lights off, however Dusk is outside and it's no fun going through a cemetery in the daylight!
Are vaccine passports required to enter Deadmonton?
No. We will be operating at 1/3 capacity and we will be implementing the same above and beyond safety protocols that earned us AHS approval to run at this time in 2020. Click here to see our COVID protocols in place.
Are face masks required for customers?
Yes – As Government restrictions are back in place, you are required to wear a face mask that covers both your mouth and nose – both indoors and outdoors.
If government restrictions continue to change, we will change along with them. Mask are required by all patrons and we do not accept mask exemptions.
How long will it take to get through?
Once you get through the lineup (unless you have a speed pass), it should take approximately 20-25 minutes to get through WARPED, and 8-10 minutes to get through DUSK. Please be aware that both are individually lined and you will have to wait in line for the next haunted house. You can choose to go into whichever haunted house you want first.
Tickets are sold out online - can I buy them at the door?
If tickets are sold out online we will sell tickets at the door ONLY if there is capacity available – there may be a longer wait time and entry will not be guaranteed if you do not have pre-purchased tickets.
What time should I come if I want to purchase tickets at the door?
If tickets are sold out online we will sell tickets at the ticket booth during normal operating hours and ONLY if there is capacity available. Purchasing tickets at the door are subject to longer wait times and it's not guaranteed you will get in.(see Event Info for opening times).
Can I pay for tickets at the door?
Purchasing tickets at the door will only be available if there is capacity to let you in. The only way to guarantee entry on any given night is to pre-purchase tickets online. Cash, Credit and Debit are available.
Is there an ATM?
There is an no ATM on site however we accept cash, credit and debit payments.
Is there an age restriction?
No! The haunted house is recommended for ages 12+. All ages are welcome to go through the haunted house. However, no refunds will be given if your kid gets too scared. No exceptions.
Is there a way to avoid waiting in line?
What is a Speed Pass?
A Speed Pass is a ticket purchased that allows you quick access into the haunted house on peak nights.
Can I buy tickets in advance?
Yes! Both regular admission and speed passes are online now! Click here to buy now! If they sell out online we will sell tickets at the door ONLY if there is capacity and entry is not guaranteed.
How long is the wait in line?
The wait can vary from night to night. We will NOT sacrifice the quality of our show to push people through the gates. Expect there to be a wait especially the closer it gets to Halloween. There's nothing we can do to about that. It's a normal occurrence within the haunted house industry. To avoid long line ups please come earlier in October or you can purchase a Speed Pass.
Do you offer group discounts?
Can I take photos or selfies in the haunted houses?
No, you will be too scared to take a photo anyways! You will be asked to leave if you take photos or video while in the attractions. Photos are permitted outside the haunted houses and there are many photos opportunities with some of our ghouls outside!
If I get too scared to enter the haunt, can I come back at a later time or get my money back?
All scares are final! No refunds will be given. No exceptions man.
Will the creatures touch me?
Actors are instructed not to touch the living. However, the haunted house is dark and it is difficult to predict the bumps in the night. You are not allowed to touch our actors. In general the creatures will not touch you but at times it's hard to control their cravings. They do respect your wishes if you are not comfortable with it.
How many people can go through together?
The maximum amount of people in a group is 5. Any more then that you will lose part of the experience.
Is there food or drinks there?
Yes! Once you get inside the compound you will find a food truck with some great food, and a concession with alcoholic and non-alcoholic drinks and some yummy treats.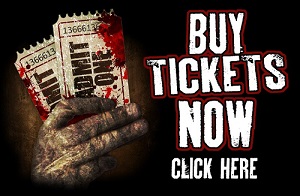 Warning
READ THIS WARNING BEFORE ENTERING DEADMONTON HOUSE
** No High Heels! ** No Exceptions! Please do not wear heels to the haunted house as it is a safety concern for yourself and other patrons. High heels will not be allowed inside.
Deadmonton House reserves the right to refuse admission to anyone. You will experience intense audio, lighting, extreme low visibility, strobe lights, fog, special effects, sudden actions and an overall physically demanding environment. You should NOT ENTER this haunted house if you suffer from asthma, heart conditions, prone to seizures, physical ailments, respiratory medical issues, claustrophobia or if you are pregnant.
Deadmonton House reserves the right to prevent access to its attraction if you are intoxicated or if you are under the influence of any drug use. You will not be admitted if any of these conditions are noticed by our staff.
DO NOT ENTER if you suffer from ASTHMA, HEART CONDITIONS, SEIZURES, RESPIRATORY MEDICAL ISSUES, CLAUSTROPHOBIA OR IF YOU ARE PREGNANT.
You are not allowed to smoke or run inside the haunted house. There is no touching of the actors or props inside the attraction. Look with your eyes and not your hands. Flash photography is not permitted inside the haunted house.
THERE ARE NO REFUNDS! ZERO EXCEPTIONS. ENTER DEADMONTON HOUSE AT YOUR OWN RISK.
Your ticket is a revocable license and may be taken and admission refused upon refund of purchase price. Holder of this ticket understands that there is inherent risk involved with attending Deadmonton House. Holder voluntarily assumes all risks and dangers associated with participation in this haunted house. In consideration and acceptance of entrance into the haunted house holder agrees to release the operator, employees and landlord from any liability, harm, injury or death, cost or expense whatsoever that may arise directly or indirectly, from attending Deadmonton House.