If tickets are sold out online we will sell tickets at the door ONLY if there is capacity available inside. You may experience long wait times and entry is not guaranteed. The only way to guarantee entry is to pre-purchase your tickets online.
The opening times reflect the opening times for WARPED – DUSK opens at DUSK meaning the opening times for this haunted house will adjust with the sunset.
For those who buy tickets for an earlier show (at the beginning of October), you may experience wait times in between haunted houses as DUSK does not open at the same time. New for 2021: We are offering EARLY BIRD single admission tickets to WARPED only from September 24th to October 17th from 7-7:30 PM that do not include DUSK. We have food, beverages and some great photo ops in the compound to entertain you while you wait!
Event Hours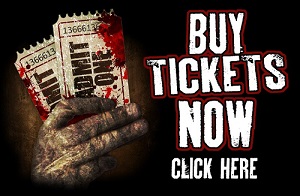 Opening night for the 2021 Halloween season is September 24, 2021. For information about ticket prices, visit our Pricing page.
Nov 5th, 6th & 7th are our famous LIGHTS OUT event! Yes! Our lights will be turned off and each group will only get one light to try and make their way through Deadmonton House. Good luck!