Regular Admission and Speed Passes Available Online & at the Door
Ticket Prices
Regular Admission: $28.00 –  BUY NOW
Speed Pass: $45.00 – No Waiting In Long Lineups! BUY NOW
Deadmonton Daytime Tour/Fundraiser Event: BUY NOW
Come on down to Deadmonton in the Daytime on Saturday October 5th from 2 PM to 5 PM and take a walkthrough the haunted house without the scares! Perfect for those who prefer not to be scared but still would like to enjoy the wonders of Deadmonton. The show lights will still be on but there will be no scares. Actors will be present but will not be acting or scaring.
This is a charity event: $5.00 from each ticket sold will be donated to FARRM. The Hearse will be there waiting to be filled! Fiona and Trinket will also be coming back from 2 PM to 5 PM! Come talk to the FARRM folks and take some pics with the cutest goats you'll ever see!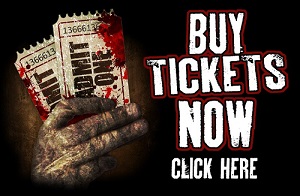 Cash, Credit & Debit TAP only Accepted. There is an ATM in the store. 
A Speed Pass is a ticket purchased that allows you quick access into the haunted house on peak nights. No waiting in line. Speed passes are now available and there will only be a select number of speed passes for sale each night at the door. Use your speed pass anytime during the night you've purchased.
REGULAR SEASON (Sept 27 – Oct 31)
LIGHTS OUT  (Nov 1, 2, & 3):
Recommended for 12+ adults. No refunds will be given. First come, first served. Recommendation: arrive early to avoid long line ups.
Address
7031 Gateway Blvd
Edmonton, AB
Parking info
There is parking available in the back of the building, drive though the gates on the north end of the building – follow the signs). There is also limited parking at the front of the building in front of the store – please DO NOT park in the antique mall parking lot.
There is also overflow parking across the street  (west side of gateway) – follow the signs.
Warning: Your ticket is a revocable license and may be taken and admission refused upon refund of purchase price. Holder of this ticket understands that there is inherent risk involved with attending Deadmonton House. Holder voluntarily assumes all risks and dangers associated with participation in this haunted house. In consideration and acceptance of entrance into the haunted house holder agrees to release the operator, employees and landlord from any liability, harm, injury or death, cost or expense whatsoever that may arise directly or indirectly, from attending Deadmonton House.